Leader and Manager as Coach
Session 2017-18
Reading list for the Leader and Manager as Coach programme
Welcome to the UK ICF Website - UK ICF

Website The ICF is a non-profit professional organisation of personal and business coaches. Their website includes information and advice on choosing the right coach for your organisation. It also provides a directory of certified coaches based in the UK.

Webpage The EMCC exists to promote good practice and the expectation of good practice in both coaching and mentoring across Europe. The website includes a European directory of accredited coaches, allowing users to search for a coach by language, as well as by specialism and accreditation level.

Webpage The AC is a leading profiessional body for coaches, training/coaching providers and sponsors of coaching. Its website includes an online directory of AC-accredited coaches and coaching organisations based in the UK.

The Coaching and Mentoring Network

Website This site includes a number of case studies and articles on coaching and provides some useful definitions of both coaching and mentoring. The site also features a discussion forum to which coaches, managers who coach, and leaders of internal coaching programmes can subscribe.

Website The 'Inner Game' concept was first developed by Tim Gallwey in the 1970s as an approach to sports coaching. However, over the years it has become a classic model for coaching in organisations, as well as in the world of sport. The website provides more information on the concept of the 'Inner Game' and how it can be applied in organisations.

Coaching at Work | A voice for the coaching community

Website This is the online home of Coaching at Work magazine. The website includes much of the magazine's written content, including articles and handy hints and tips. There are also a number of online discussions and polls that provide an interesting insight into the real issues that coaches face.

Coaching and Mentoring | Factsheets | CIPD

Webpage This section of the CIPD (Chartered Institute of Personnel and Development) website includes factsheets, survey reports and how-to guides on coaching. It also provides information on the coaching qualifications the CIPD endorses, including the Foundation Certificate in Organisational Coaching.

Coaching at the sharp end: the role of line managers in coaching at work - Valerie Anderson, Charlotte Rayner, Birgit Schyns, Chartered Institute of Personnel and Development 20091843982382,9781843982388

Book Designed for HR professionals and line managers to improve their focus and co-ordinating actions in developing and sustaining a coaching culture. It contains questionnaires, diagnostics and case studies to help you in developing a coaching culture in your organisation

Co-active coaching: changing business, transforming lives - Henry Kimsey-House, Karen Kimsey-House, Phil Sandahl, ebrary, Inc 2011 (electronic resource)

Book This book provides a detailed explanation of the co-active coaching model and outlines its applications and organisational benefits. This edition includes an updated 'coach's toolkit' that provides a range of practical resources to help coaches put the co-active coaching model into practice.

Communicating change: how to win employee support for new business directions - T. J. Larkin, Sandar Larkin c19940070364524,9780070364523

Book Written for busy managers at all levels, this book offers specific prescriptions for effecting successful change centered around three guiding principles: conveying the message through supervisors, communicating face-to-face, and making the changes relevant to each work area.

Coaching skills: a handbook - Jennifer Rogers 20080335225527,9780335225521

Book A practical guide to honing the essential skills of coaching, including creating trust and using language effectively in coaching conversations.

The 18 challenges of leadership: a practical, structured way to develop your leadership talent - Trevor Waldock, Shenaz Kelly-Rawat, MyiLibrary 2004 (electronic resource)

Book You're a manager. A leader. You come to work and are faced with challenges from the moment you walk through the door (not to mention the ones that followed you home the previous evening). Some of these challenges are internal, some are external. They will also change across your life span and career span. There is another way. One that you own and that therefore you are far more involved in. It ceases to be something that's done to you - it becomes something you do.

The complete guide to coaching at work - Perry Zeus, Suzanne Skiffington c20000074708422

Book This book, written by two of Australia's most respected coaches, is a useful reference text for anyone wanting to coach others. It contains a wealth of information on various coaching processes and skills.

Living the 7 Habits - Stephen R. Covey July 3, 2000 (Paperback)0743209060,9780743209069

Book NOT AVAILABLE IN THE UNIVERSITY LIBRARY The author introduced the seven habits in his first book The Seven Habits of Highly Effective People. Now he shows how they have touched the lives of millions by profiling the people, institutions, companies and governments that have incorporated the habits into their lives.

Coaching for improved work performance - Ferdinand F Fournies 20000071352937

Book NOT AVAILABLE IN THE UNIVERSITY LIBRARY This classic text presents coaching techniques against the backdrop of the performance management process to provide managers with a framework for helping their teams achieve high performance through coaching.

Coaching Basics (Astd Training Basics Series) - Lisa Haneberg January 23, 2006 (Paperback)1562864246,9781562864248

Book NOT AVAILABLE IN THE UNIVERSITY LIBRARY In Coaching Basics, the American Society for Training and Development (ASTD) provides trainers and managers alike with a targeted and focused methodology for coaching, along with practical example and exercises.

The Coaching Bible: The essential handbook - Ian McDermott 16 Feb. 2012

Webpage NOT AVAILABLE IN THE UNIVERSITY LIBRARY This comprehensive coaching handbook can help both new and experienced coaches alike. In the book, authors McDermott and Jago – both experienced coaches – present their 'MultiModal' coaching model, which helps coaches identify the core issues that lie at the heart of their coaching conversations.
Profile Required
Reading intentions and notes are stored against your user profile. Please create a profile to use this feature.
My notes
You must be logged in to add a note
What are item notes?
You can use item notes to make personal notes on any of your reading items. Notes are private to you and will not be shown to other users.
You can review your item notes from the list, the item page or from your profile page.
---
How do I create an item note?
To make notes, first you must be logged in. Once logged in, simply click Add note? next to the list item you wish to make notes on. You can also make notes at the bottom of every item's detail page.
Your note will be saved automatically as you type.
Have you read this?
You must be logged in to set a reading intention
What are reading intentions?
Setting up reading intentions help you organise your course reading. It makes it easy to scan through your lists and keep track of progress. Here's an example of what they look like: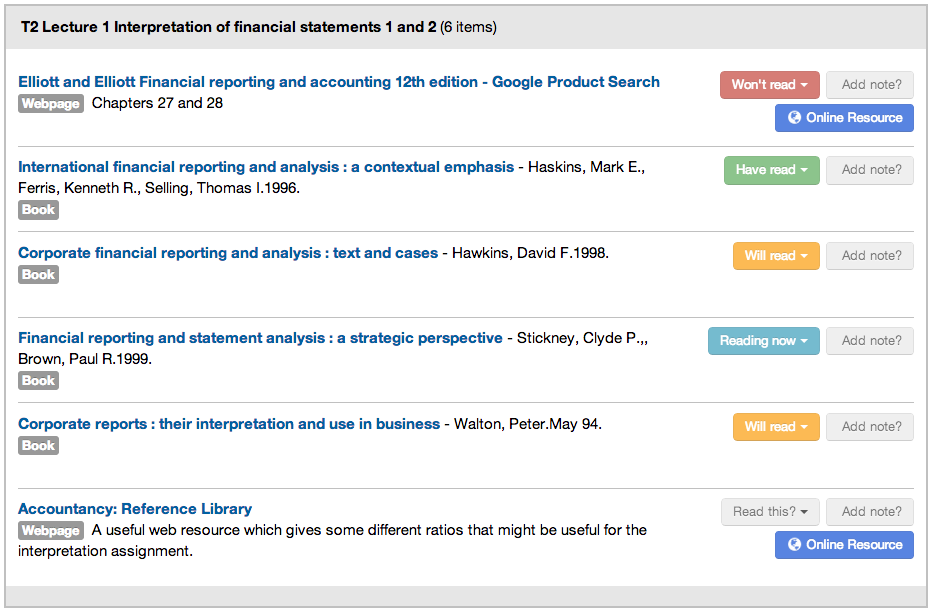 Your reading intentions are also stored in your profile for future reference.
---
How do I set a reading intention
To set a reading intention, first you must be logged in. Once logged in, click Read this? next to the list item you wish to set a reading intention for.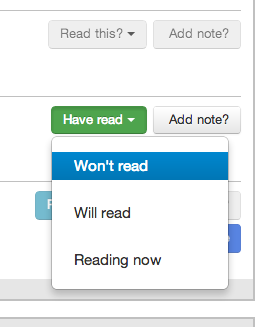 You can also set the reading intention from every item's detail page.